The Westchester LA Pickleball Club is a vibrant and inclusive community dedicated to promoting and enjoying the sport of pickleball in Los Angeles. Established in 2021, the club has quickly become a prominent hub for pickleball enthusiasts of all skill levels, offering a range of activities, events, and opportunities for players to connect and improve their game.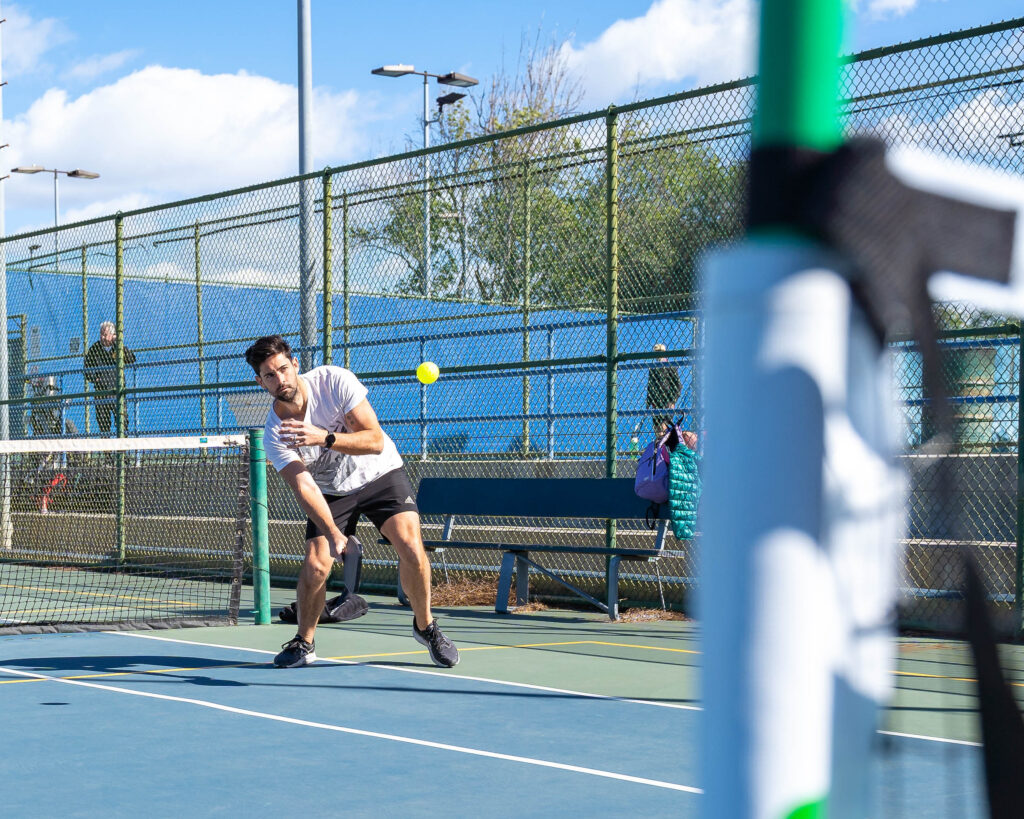 We play on 8 courts at the Westchester Recreation Center, located at 7000 W Manchester Ave, Los Angeles, CA 90045. Whether you are a seasoned player looking for new opponents or a beginner looking to learn the game, our community has something for everyone. With Clinics, Round Robins, King of the Hill, Live Ball, and both morning and evening Open Play, you can easily find opportunities to play and improve! So grab your paddle and join us on the court!
The Westchester LA Pickleball Club is affiliated with the renowned LA Pickle Club, benefiting from a strong network of pickleball enthusiasts and resources. This affiliation allows members to participate in various interclub tournaments, leagues, and social gatherings, fostering a sense of camaraderie among players across the Los Angeles area.
Our club is conveniently located for residents of Playa del Rey, Playa Vista, Marina del Rey, Inglewood, West LA, South Bay, Venice, Mar Vista, and other surrounding California communities.
Los Angeles Pickleball Courts
Located in the heart of Los Angeles, our club boasts exceptional outdoor facilities and amenities that cater to both recreational and competitive players. Our pickleball courts provide an ideal setting for players to engage in thrilling matches and enhance their skills. Whether you're a seasoned player or new to the sport, Westchester LA Pickleball Club offers a welcoming environment where you can enjoy the game and connect with fellow pickleball enthusiasts.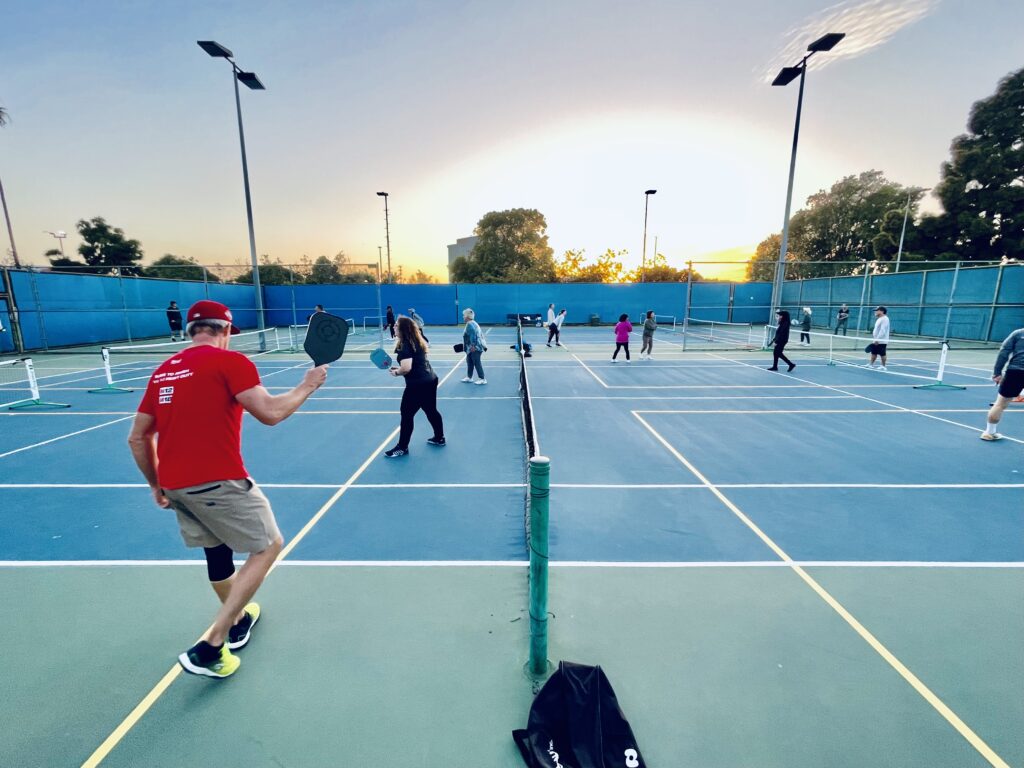 At Westchester LA Pickleball Club, we are committed to promoting the growth and development of pickleball in the local community. We offer a variety of programs and services, including clinics, lessons, and organized play for players of all ages and abilities. Our knowledgeable and experienced staff members, including Michael Koss and Tom Brewster, are passionate about the sport and dedicated to providing a positive and enjoyable pickleball experience for everyone.
Our Instructors
Michael Koss is a local USA Pickleball Ambassador and PPR Certified Coach. He is a fixture on the Westchester Courts, always giving pointers to people while they play and keeping the laughs coming. 
Tom Brewster partnered with Michael in December 2021 to begin LA Pickleball at Westchester Recreation Center. With a focus on community and education, together they have grown the program to one of the most comprehensive, welcoming, and coveted pickleball networks in Los Angeles.
What sets Westchester LA Pickleball apart is 8 fully staffed, pickleball courts with open play twice a day, beginner lessons, clinics, advanced play, equipment loans, and an on-site USA Pickleball Ambassador and PPR Certified Coach. Besides it's all inclusive programming, Westchester LA Pickleball is a friendly and welcoming community, where first-timers are always welcome. The cost to play is $7.
Open Play & Pickleball Tournaments
At Westchester LA Pickleball courts, we offer $7 open play sessions for both beginners and advanced players. Whether you're new to the game or a seasoned pro, these open play sessions provide a fantastic opportunity to enjoy the sport and connect with fellow pickleball enthusiasts. Beginners can join to learn the basics, practice their skills, and gain experience on the court, while advanced players can engage in competitive matches and challenge themselves against skilled opponents.
Our welcoming and vibrant pickleball community ensures that everyone feels included and has a great time. Don't miss out on the chance to improve your game, meet new people, and have a blast at our $7 open play sessions.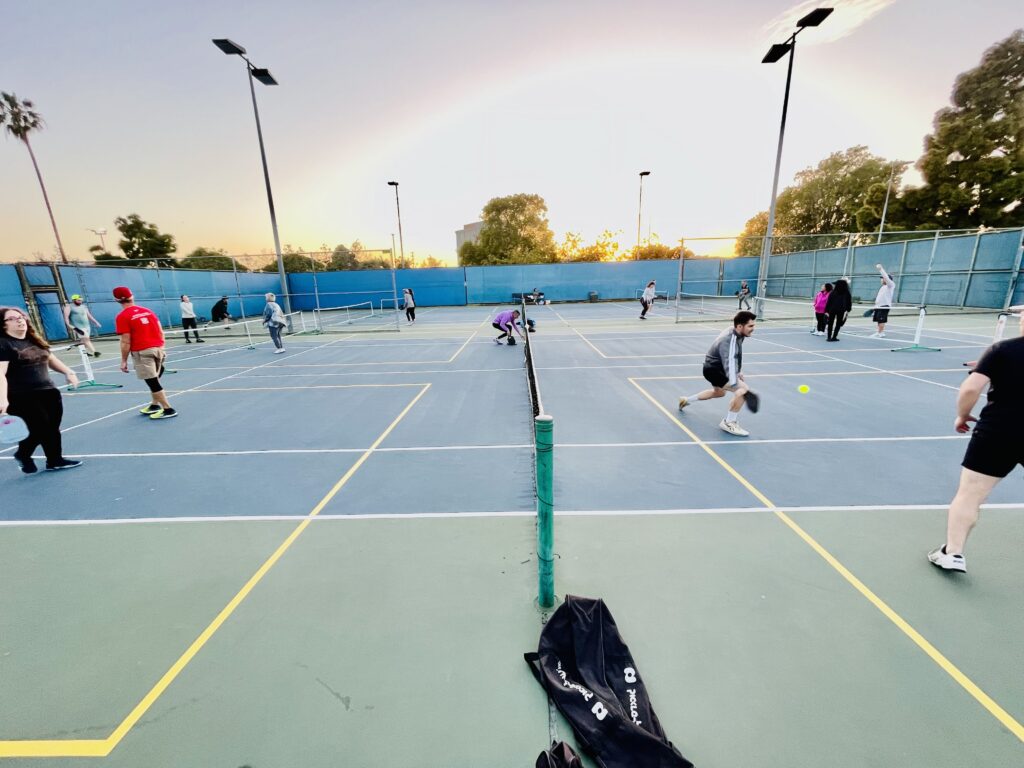 Pickleball Tournaments
In addition to open play, we offer various programs such as Round Robin Tournaments for both low intermediate and high intermediate players, King of the Hill, and a range of clinics tailored to different skill levels. Our clinics include Beginner's Clinic (Novice level), Intermediate Clinic (3.5 Level), Level Up to 3.25 Intermediate, Improver Clinic (3.0 Intermediate), and Beginner Fundamentals Clinic (2.5 Level). We also offer private lessons that can be scheduled for individuals or groups, both on-site and off-site.
Our instructors, including Mike Koss, Lisa Duncan, and Ho Nguyen, are experienced and certified pickleball coaches dedicated to helping players improve their skills and achieve their goals. They provide expert instruction and guidance, ensuring that each student receives personalized attention and support.
If you're interested in joining us at Westchester LA Pickleball Club, you can contact Mike Koss at [email protected] or call 917-837-2356. You can also visit our website at https://westchesterlapickleball.com/ for more information.
Come and be a part of our welcoming community, enjoy the excitement of pickleball, and connect with fellow players at the Westchester LA Pickleball Club!
A Poem About Open Play
You know it, you love it, it's Open Play!!!
Some games will be great!! Some will not 🙂
All Levels welcome! Depending on demand/turnout, 4 Beginner courts and 4 Intermediate/Advanced courts
PPR Certified Coach Mike will walk around answering questions and giving suggestions to help improve your play!
Novice or pro, you'll be welcomed with a smile
Compete for three hours, or just a short while
Play with a stranger or play with your friend
Need a paddle? We are happy to lend
Tom always has something nice to say
Pat will tell you when it's your turn to play
Mike will help you improve your serve and dink
As well as tell you where we go to drink
We provide the balls so just bring some water
And also maybe your mom, dad, son or daughter
So reserve your spot now, do not delay
And we'll see you on the court at your next Open Play!